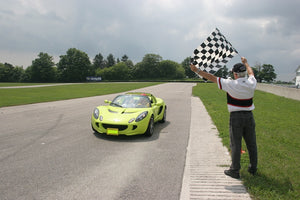 Our Track School course is an excellent introduction to the world of high-performance driving. We will show you the skills and techniques required to be competitive in competitions such as Time Attack (Solo I), Lapping Days or Road Racing. Your instructors are all experienced in the sport of Time Attack (Solo I) and/or Racing, including your Chief Instructor who is a multi-time Ontario Solo I Champion, race winner in the Ontario GT Sprints and Canadian Touring Car Championships. You will learn from some of the best.
To lap a race track safely and competitively requires skill and technique, no matter what track you choose to run. Knowing what you are doing can save you from injury, crashes and embarrassment. Just showing up for a Lapping Day and expecting to run well and be safe is like jumping into the deep end without knowing how to swim. Repeating the same mistakes lap after lap will limit your progress, if not worse.
This course teaches racing techniques required to compete with the best in Time Attack or Race competitions. We will help you understand and develop your skill set as well as show you how to prepare both you and your car for competition.
The full-day course (8:30 am to 5:00 pm) consists of easy-going classroom sessions alternating with driving exercises throughout the day to allow each student to put into practice new information introduced in the classroom.
The Classroom Session will dispel many myths and misconceptions regarding racing technique and vehicle knowledge and performance. From the correct use of the controls, vision training, how to read/learn the track and identify the racing line, heel and toe downshifts, weight transfer, slip angles, preparing for competition and much more, you will be surprised at how much there is to know about competition driving. We will also explain threshold braking, tires, and skid recovery, as well as how to get involved in competition and much more in these friendly classroom sessions.
We designed the Driving Exercises to help you learn how to control your vehicle while developing new performance driving skills. You will experience lapping a race track behind a pace car to show you the proper race line. Then you will move on to lapping at your own pace with one of our highly experienced instructors sitting with you, guiding you and giving you instant feedback. You will learn how to get the most out of your car on the race track under safe and controlled conditions.
Safety is always our number one concern. Our Track Schools are run in conjunction with a well organized Lapping Day. Students will have their own dedicated track sessions, separate from the more Experienced Lappers. Any participants of our Lapping days must have taken our Track School or a recognized equivalent.
EARLY BIRD SPECIAL RATE – UP TO 3 WEEKS BEFORE EVENT – $525.00 plus HST, includes catered lunch, handbook, certificate and lapping

WITHIN 3 WEEKS OF EVENT – $575.00 plus HST
ILR LAPPING DAYS
EARLY BIRD SPECIAL RATE – UP TO 3 WEEKS BEFORE EVENT 
Lapping Only – $250.00 plus HST (Must have completed ILR Track School)
WITHIN 3 WEEKS OF EVENT – $275.00 plus HST
Lapping Only – $100.00 plus HST Expert Drivers Club Members* (* Completed all 4 ILR schools – CCS, Winter, Adv. Autoslalom & Track)
SPECIAL PACKAGE DEAL OF ALL 4 COURSES FOR ONLY $1700 PLUS hst FOR A SAVINGS OF $242.95!
NOTE: Courses are held at the Canadian Tire Motorsport Park (CTMP) / Mosport DDT